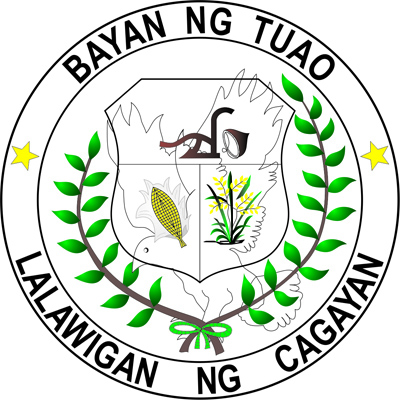 SEAL SYMBOLISM
SHIELD
Derived from the provincial seal of Cagayan where the town is located.
32 LEAVES
Represent the number of barangays comprising the municipality.
ROPE
Signifies hope, unity of interest or solidarity and cohesiveness of the Orags (Tuaenos).
STARS
Symbolizes beacons as guiding lights of the municipal officials in marching towards their dreams; also symbolize the need for infrastructure projects, ordinances, etc. for the good of the municipality.
RICE & CORN
Represent the main products of the municipality.
WOODEN PLOW, HAT(SALAKOT)
The plow signifies the farm implement most commonly used by the farmers in the municipality while the hat is widely used by the farmers as protection from heat of the sun and from rain.  They also signify humility, creativity, industriousness and pragmatism of the constituents; also depict that Tuao is an agricultural community fits for various crops.
LINE DRAWN BETWEEN
& SEPARATING THE MAIN
PRODUCTS (RICE & CORN)
Signifies that the town is divided into two(2) by the Chico River.  The eastern portion comprising eighteen (18) barangays while the western portion has fourteen (14) barangays.  The center of government is found in the western portion.
BIRD
Denotes that the name of the municipality was derived from a sound produced by a mysterious bird.