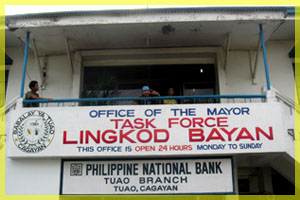 A Brainchild of Atty. Francisco N. Mamba, Jr., this innovative public service came into operation by virtue of Executive Order No. 95-01 issued upon his assumption into office on July 3, 1995.  The maxim "public service is a public trust; a delayed service is service denied", is the motivating factor for all LGU employees to take immediate action on any request for assistance.
With this program, the Office of the Mayor is open 24 hours a day, every day, 7 days a week – from Monday to Sunday.  It calls on all local officials and employees, in all levels, to take immediate acton on any local problem/complaint/request and quickly respond to all kinds of emergency situations.
Already on its 14th year of operation, Task Force Lingkod Bayan is now a by-word not only in the municipality of Tuao, but in neighboring towns, as well, in times of emergencies.  Proven to be effective and reliable, it is now being replicated by other municipalities.
Composition of the TFLB Team
a. Team Leader
b. Electrician
c. LGU Roving Patrol
d. Driver
e. Radioman
Mechanics:
The Team Leader acts as the little Mayor who makes decisions thru the night on trivial matters during an emergency.  He/she also acts as the secretariat of the team to document events during their duty.
The Electrician is tasked to maintain uninterrupted power supply.  He is also responsible in keeping the streetlights on at night and switching them off at daybreak.
The LGU Roving Patrol assists the PNP and Barangay Police (Tanods) in the maintenance of peace and order.  It also serves as watchdog on illegal transport of prohibited lumber and other forest products, including prohibited drug trade activities.
The Driver takes charge of the ambulance during the medical emergency.
The Radioman receives messages and keeps the team leader informed of any request for assistance.  The TFLB office is equipped with a radiobase, a landline and cellphones.
Employees render services on a rotation basis.  Duty starts at 5PM and ends at 8AM  the following day.  The team is given a day off after rendering night duty.
Based on records, the most common requests for emergency assistance are:  ambulance to bring the sick to the nearest hospital; police assistance to pacify fights/brawls, domestic violence and to apprehend vicious drunkards; rescue operations during incidence of fire, typhoons, flashfloods and other types of calamities .