Lingkod Bayan
Details

Written by

Administrator

Category: Lingkod Bayan
Hits: 45796
Details

Written by

Administrator

Category: Lingkod Bayan
Hits: 56605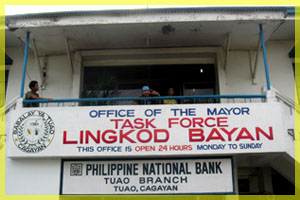 A Brainchild of Atty. Francisco N. Mamba, Jr., this innovative public service came into operation by virtue of Executive Order No. 95-01 issued upon his assumption into office on July 3, 1995.  The maxim "public service is a public trust; a delayed service is service denied", is the motivating factor for all LGU employees to take immediate action on any request for assistance.
Details

Written by

Administrator

Category: Lingkod Bayan
Hits: 56535
This program was first introduced by the Honorable Congressman, Dr. Manuel N. Mamba during his stint as Mayor of Tuao, Cagayan from 1988 to 1995.  His younger brother, presently the Presidential Assistant for Region 02, had maintained the program during his three (3) consecutive terms as Mayor of Tuao from 1995 to 2004.  Today, because of the various benefits and gains derived from the program, the  administration of Honorable William N. Mamba is bent on  institutionalizing it.
Details

Written by

Administrator

Category: Lingkod Bayan
Hits: 43646
The MSRT, a brainchild of Cong. Manuel N. Mamba, then Mayor of Tuao, is an organization that provides the mechanism for full participation & active involvement of all Tuaoeños in the building of Tuao.
Details

Written by

Administrator

Category: Lingkod Bayan
Hits: 46040
When mayor william n. Mamba assumed office on july 1, 2004,  he installed an innovative public service program to further enhance and improve the delivery of services to the people.
"i-text kay mayor" program is a 24/7 service that functions as a feedback mechanism for the people to bring to the attention of the mayor, their comments, views, problems, complaints and suggestions on any issue concerning local governance.  It also serves as a tool for citizen's watch on illegal activities such as gambling, logging, and drug trafficking.  The program  greatly helps people in times of emergencies where requests for immediate assistance are directly received and acted upon.
The program plays a vital role in countering the proliferation of unlawful acts that tend to corrupt.  Abuses and misconduct of government employees and public officials are checked, thus, resulting in a disciplined, decent, reliable and respectable governance.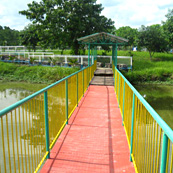 Footbridge
Cassily Lake East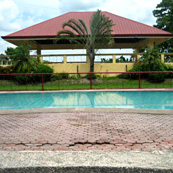 Pavillion & Swimming Pool
Cassily Lake Resort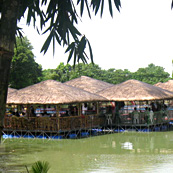 Gazzebos
Cassily Lake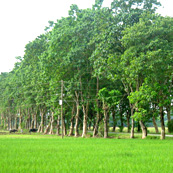 Greenbelt Area
Alibiao